3CX Video Conference is now integrated with YouTube. Your users can live stream presentations on YouTube to make access to your event even more convenient and increase your reach. Public YouTube content can also be streamed directly in the meeting.
Learn More at Video Conferencing for Advanced Users guide.
Increase Your Event's Reach Using 3CX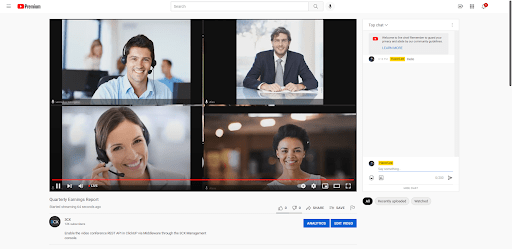 Leverage YouTube's broad appeal and easy access to increase your video conference's reach. You can use many of the built-in features of 3CX's Video Conference in your YouTube Live streams such as the Whiteboard and Screen Sharing. Interact with your viewers and moderate live chats on YouTube to keep your audience engaged. You can even stream public YouTube content in your YouTube live streams.
3CX Video Conference WordPress Plugin
Improve the customer experience by allowing them to view upcoming webinars and register to attend directly from your website. 3CX's WordPress plugin allows you to filter the list of webinars by the user, keyword, or the number of days in the future. Post multiple webinar lists with their own custom filters throughout your website.
Learn more at 3CX Webinars on wordpress.org.
Is 3CX Right for Your Business?
The short answer is YES! 3CX is a powerful and stable platform for communications for businesses of all sizes. Smart companies avoid communication high-cost costs by not paying per user for phone service. International companies such as McDonald's, Mercedes-Benz, and American Express are a few of the large organizations that use 3CX for their communication needs.
GMT Solutions' 3CX dedicated hosting does not require any technical expertise. There are many moving parts that create a stable phone system. We do all the work for you to set up a 3CX system that meets your business's unique needs.