Microsoft retired Internet Explorer for most versions of Windows 10 on June 15, 2022. If you are using Windows 10 Professional, Windows 10 Enterprise or Windows Home edition use Microsoft Edge's Internet Explorer mode for websites that require Internet Explorer. 
Internet Explorer Mode can be enabled in Microsoft Edge in a few simple steps. 
Enable IE Mode in Microsoft Edge
Follow these steps to enable the option to reload websites in Microsoft Edge's Internet Explorer Mode.
Select the 3 dots (…) in the upper right-hand corner.
In the right-hand menu select 'Default browser'
Then select 'Allow' in the 'Allow sites to be reloaded in Internet Explorer'
Select 'Restart'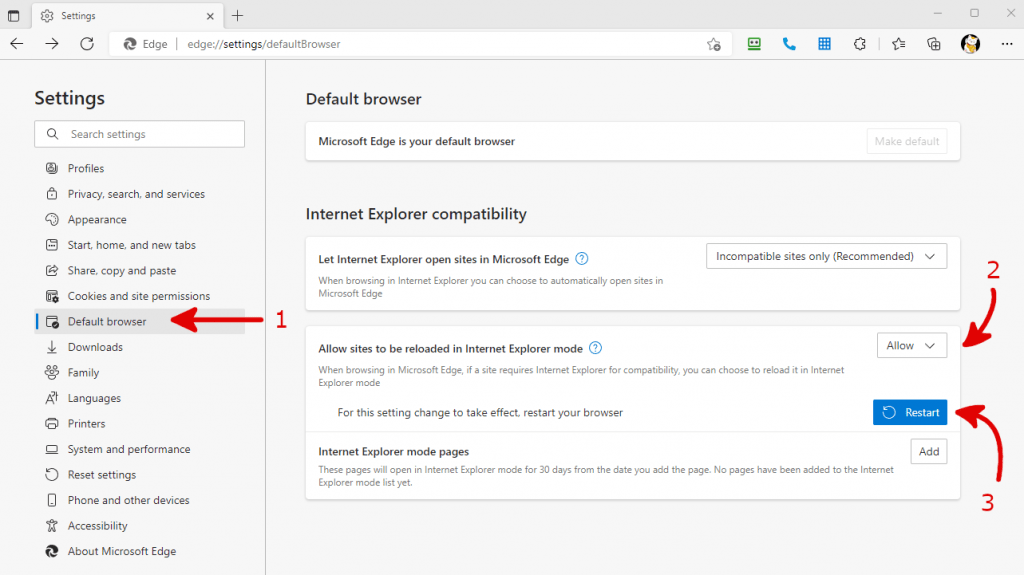 Now that IE Mode is enabled you can reload a website in IE Mode by clicking the 3 dots (…) in step 1 and selecting 'Reload in Internet Explorer mode'
Enable Silverlight in Microsoft Edge IE Mode
Download Silverlight using one of the links below. If you are not sure what version you need, download the Silverlight x64 installer.
Uncheck 'Make Bing my search engine' and 'Make MSN my homepage'. Then select 'Install now'.
Enable TLS 1.1 or 1.0 in Internet Explorer Mode
Websites that require Internet Explorer often require outdated versions of TLS to load properly. TLS 1.1 and TLS 1.0 are not secure. These unsecure versions of TLS are disabled by default. Often devices such as camera systems have poor vendor support and have become outdated
Unfortunately, enabling TLS 1.1 or 1.0 will enable it for all websites in Microsoft Edge. If you have devices that still relay on older versions of TLS, upgrade them to devices that use modern standards.
Select the 'Start Menu' and type 'Internet Options'.
Select 'Internet Options' from the list.
Select the 'Advanced' tab and scroll down to the 'Security' section.
Check the version of TLS your website needs to load and click 'Apply'
Restart Microsoft Edge and try to load the website in Internet Explorer mode.
You can still use websites that require Internet Explorer to function properly. However, you should update any equipment such as DVR to use modern browsers. If you are using a website, not under your control, contact the vendor and encourage them to update their website.
Learn how we can help if you are still stuck.